Press
"Asparagus" is part of a recent oil-on-canvas series Ellen Coletta has painted. Other works in the series include brightly colored peppers and Chinese lanterns. Coletta writes that she strives to "preserve the integrity of these elements as vehicles to communicate to the viewer." Her work is part of several private collections throughout the Eastern Seaboard region and may also be seen in stores and businesses dotting the North Cambridge area where she lives.
Coletta said she finds the creative process to be not only cathartic, but also a means to achieve an altered state. Captivated by the sensual quality of oil paints, Coletta typically works in rich vibrant colors.
Coletta has painted all of her life and received her formal education at the Art Institute of Boston and Massachusetts College of Art.
Works in Progress, Cambridge Tab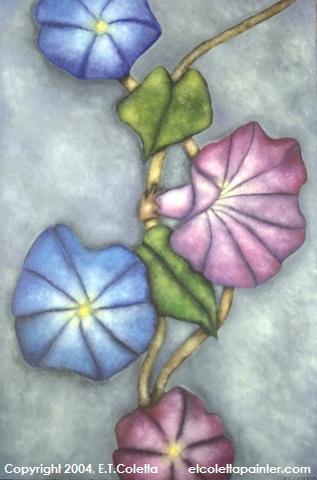 Enthralling hues, visible textures and enchanting shapes characterize Ellen Coletta's paintings. Contrasting shades of light and dark arrest the eye and call for deep, passionate examination.
"Thus far, nothing I have experienced in life rivals the remarkable sensation of observing another individual enjoying my paintings," says Coletta.
Coletta's work has been on display at the Cambridge Trust Bank in Harvard Square and at the Art Beat Festival in Davis Square, Somerville, as well as in many store windows in the North Cambridge area.
Works in Progress, Cambridge Tab